WashersUSA.com has one of the largest inventories of shim washer tooling in the United States.
NOTE: There is a 1000 PIECE ORDER MINIMUM on custom shim washers.  Please note certain items may have a higher order minimum.
Click here to fill out an ONLINE QUOTE FORM for custom shim washers.
Upon request, WashersUSA.com can furnish almost any size shim washer, in inches or millimeters.
In most cases, there is NO TOOLING CHARGE.
Precision Manufactured in materials including, but not limited to:
Blue Tempered Spring Steel
High Temperature Nickel Alloys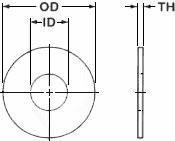 where OD represents Outside Diameter
where ID represents Inside Diameter
where TH represents Thickness